Find Your Perfect Parrot Companion Today
Are you ready to welcome a feathered friend into your life? At Parrot Society (Singapore) (PSS), we connect parrots in need of loving homes with caring and responsible adopters like you. We strive to promote the well-being and happiness of parrots through adoption, while ensuring a seamless and enriching experience for both parrots and adopters.
#Adoptdontshop: Why Should I Adopt A Parrot?
Adopting a parrot is a rewarding and fulfilling experience. By choosing to adopt, you are giving a second chance to a parrot in need and providing them with a loving forever home. Here are some reasons why parrot adoption is an incredible choice:
Save a Life: By adopting a parrot from us, you are giving a second chance to a bird in need of a loving home.
Health and Behavior Assessments: The birds we put up for adoption have lived with our approved fosterers for at least 6 weeks, which means that we know each bird's personality and general health status. This ensures that you are bringing home a healthy bird, and helps you make an informed choice when getting a feathered companion.
Support Ethical Practices: Adoption promotes ethical treatment of parrot. By choosing adoption, you are not supporting the breeding and commercial pet industry, which can involve questionable practices such as irresponsible breeding, neglect, and poor housing conditions.
Cost Savings: Our adoption fees are typically lower than the purchase price of a parrot from a pet shop. Additionally, we verify that our birds are in good health before placing them with adopters.
Support Parrot Society (Singapore): When you adopt, you are supporting PSS directly. By adopting, you free up capacity to enable us to take in other birds in need of rescue, and your adoption fee goes towards ongoing efforts to provide care, medical treatment, and support for parrots in need.
How our Adoption Process Works: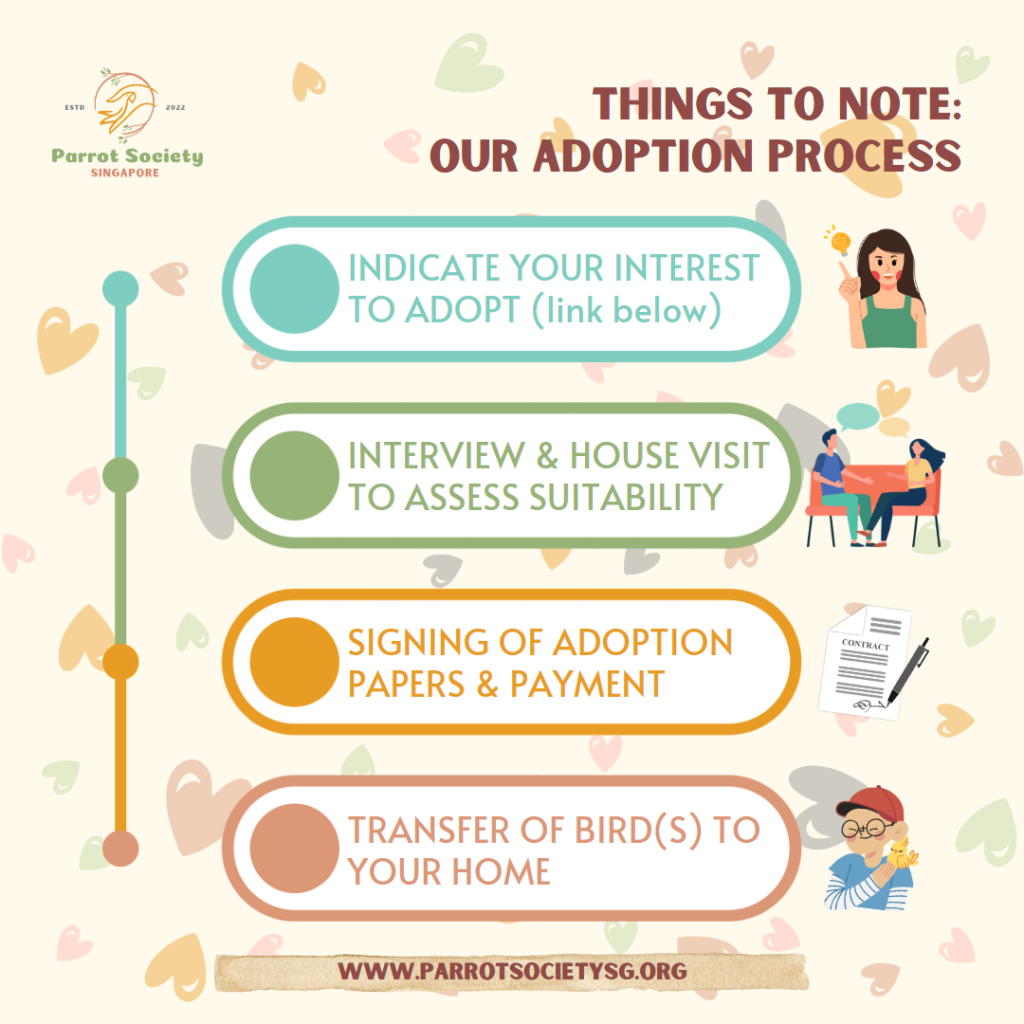 Our adoption process follows these steps:
View our current parrots available for adoption HERE. We occasionally participate in adoption drives during pet events, so do watch out for such sessions to be able to view the parrots in person.
If you are interested in adopting an existing parrot in our database, please fill up this form (takes about 10-15 min to complete). If there are no parrots currently available but you'd like to be in our waiting list for future adoption opportunities, you may also submit your application in the same form.
Upon reviewing your application, we will match you with your preferred parrot on a first-come, first-served basis, or by suitability. If you have not been contacted, please note that it is likely that someone else has indicated their interest for the parrot before you did, and we are assessing them for suitability first.
Once you have been shortlisted, our dedicated team will conduct a home visit to ensure your living environment is suitable and safe for a parrot. We'll provide guidance on setting up their habitat and answer any questions you may have. You also have the option of visiting the parrot up to 3 times (within 1 month) before making your decision on adopting it.
Once everything is in order, it's time to finalize the adoption! You'll sign the adoption agreement and pay the adoption fee, which helps support our ongoing rescue, care, and outreach efforts.
After the necessary paperwork has been completed, we will arrange a suitable date and time for you to bring your new feathered friend home.
Our commitment to you doesn't end with the adoption. We provide post-adoption support, including advice on parrot care, training tips, and access to our community of fellow parrot enthusiasts.
Start Your Parrot Adoption Journey Today!
Embark on a truly fulfilling adventure by adopting a parrot from Parrot Society (Singapore). Discover the joys of parrot ownership while making a positive impact on the lives of these incredible creatures. Begin your adoption journey now and give these wonderful birds a loving forever home!
Please note: Adoption availability may vary, and we prioritize the well-being and compatibility of our parrots with adoptive families.