Parrot Society (Singapore) (PSS) took part in the first Pets' Day Out (PDO) that involved the Community for Pets. The event was held on 11 February 2023, at East Coast Park's Coastal Playgrove. This Community for Pets is a pilot initiative where the National Parks Board (NParks) collaborated with multiple animal interest groups. The collaboration aimed to raise awareness and work towards a more inclusive society for pets.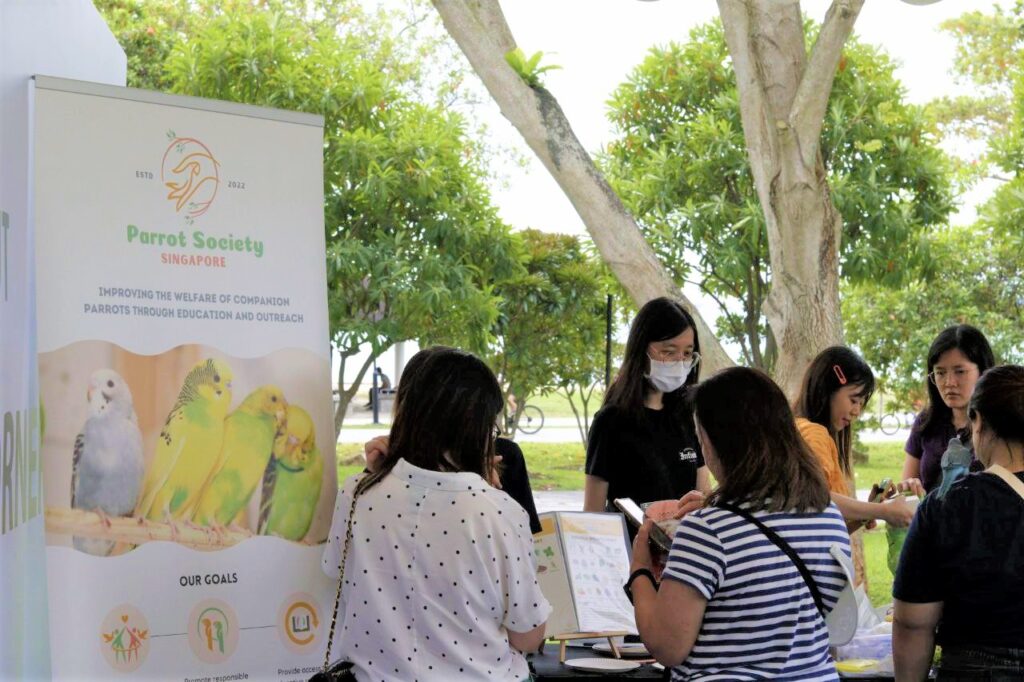 Focusing on the topic of proper care of parrots and the importance of responsible pet ownership, PSS prepared fun and educational activities for the event. Resources and information were provided through interactive displays to further enhance knowledge and support for parrots.
Despite being PSS' first public event, many participants of all ages visited the booth. A mini trivia game was played by young participants where they had to sort keywords into different categories – for instance, household hazards, safe versus unsafe parrot food, and many more. PSS also gave away bird toys, stickers, and nutritious food samples for parrots to entice more participants to visit the booth.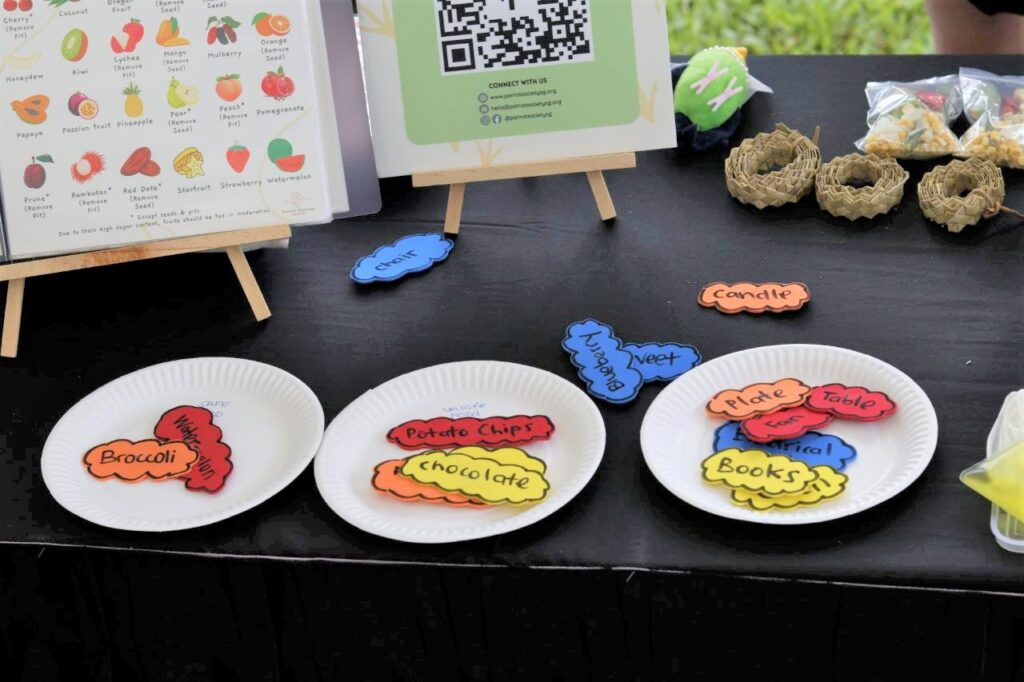 Many owners also brought their feathered friends to the event. Under the supervision of the owners, participants were able to interact with some of the parrots. These visually explained to participants that no two birds are the same; they can be of the same species but have very different personalities. It shows how owners need to learn and understand the behaviour of each individual parrot to build a better relationship with them.
As part of the program, experts held talks to share more about birds and their welfare. Topics that were covered by Dr. Jessica Lee (Head of Avian Species Programmes & Partnerships, Mandai Nature) and Dr. Neo Peici, BVSC (Melbourne), ANZCVS (Avian Health), CCRT include birds' necessary diets, tips for noise management, recognising the signs of sick birds, and common diseases. Participants were also able to have a chat with them and ask them questions relating to pet birds at the "Chat With An Expert" booth.
When asked about what she liked most about the event, Shannon, a participant at PDO, said, "knowing that there are information and more resources coming up to help educate bird lovers, it helps to know there's a community out there."
Over the years, there has been an increase in interest in parrots and a growing number of parrot owners in Singapore. However, it was found that there was a lack of knowledge and support available for the proper care of parrots in the community.
By being involved in PDO, PSS is proud to have the opportunity to share with parrot owners and lovers more about these feathered friends and how to care for them.
Check out our resources on parrot care or find out more on how you can volunteer with us.